Cultivating Presence 5-Week Workshop
Judy Bousquin, Elise Brenner
Canceled
This event has already occurred.
Please be sure you are on our mailing list to be notified of more events like this!
---
This workshop will run for 5 consecutive Thursday evenings September 21 – October 19
First session on September 21 will run 6:30 – 8:30pm (2 hours) and subsequent sessions will run 6:30 – 8:00pm (90 minutes)
Sessions will be recorded with Zoom replays available to watch for up to 2 weeks after each session. They are not downloadable.
We, Judy Bousquin and Elise Brenner, were looking for inspiration on ways to serve our community having witnessed many people suffering in response to these uncertain times.
'What do people need right now?' we wondered and felt strongly that people are seeking learning, growth, and experiences around the theme of cultivating presence as a way to feel strong within themselves and better able to helm their personal journeys.
'Cultivating Presence' is a 5-week participatory and interactive program offered on Zoom, that includes breakout room sharing, meditations, contemplations, journaling, and exercises. Participants engage in mindfulness and compassion practices that cultivate a deep presencing and connection with all things, beings, and processes.
Brief week-by-week synopsis:
Our first two weeks together focus on becoming allies with our own selves—all parts of ourselves—with warmth and care. We will engage in meditation practices, discussion, journaling, and interactive exercises that allow us to return to ourselves and melt the ice within. As Mother Theresa taught: "If each of us would sweep their own doorstep, the whole world will be clean."
Moving forward into the third and fourth weeks, we cultivate embodying presence and awareness of the interconnection of all things and beings. We touch into that dimension of ourselves that deeply knows and feels that there is no separation between us. We expand beyond the confines of the self, and tap into that innate sense of a multidimensional bond with the entire world. "What ultimately soothes our souls is an innate connection to something greater than ourselves. This something keeps trying to enter the world through our lives." -- Michael Meade
As we move together into our final week together (week 5), we explore the responsibility we may feel, and the natural wish we may feel, to serve humanity, all beings, and the planet. We discover how each of us, from where we are, and with what we have, might show up in concrete, do-able ways that reflect our conscious presence.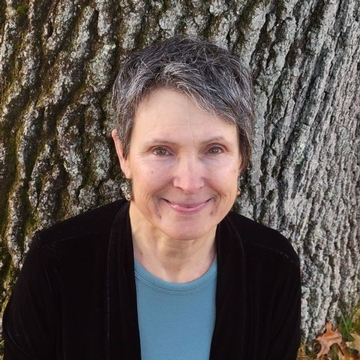 Judy Bousquin
First and foremost, Judy Bousquin is a human traveler learning how to be in this world in a compassionate and loving way. Judy is trained as a meditation teacher, teacher and practitioner of Reiki, yoga instructor and innovator of collaborative healing processes.
Judy's spiritual journey began decades ago with her discovery of yoga practice in her teens which led her to meditation and pranayama and eventually to Reiki and Tao and shamanic teachings. After many years of weaving these practices, techniques and philosophies into her daily life, Judy felt the calling to share what she could with others. The benefits of finding internal calm, equilibrium and the sense of interconnection inspired Judy to teach these time-honored traditions through her private practice Healing & Renewal and through Yoga Moves yoga studio, both in Stoneham, MA. With a personal tenet of wanting to teach care for ourselves and each other Judy creates community by bringing people together to share our humanity in many ways.
When not engaging in practice or teaching, Judy finds joy in being with her family, friends, reading, writing, wandering in the woods or playing at the beach.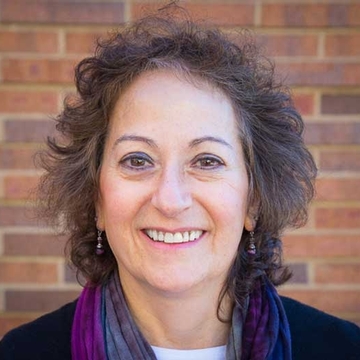 Elise Brenner
Elise Brenner (she/her), PhD, Reiki Practitioner & Teacher, Mindfulness Meditation Teacher, Adjunct Professor in the Departments of Public Health at Simmons University in Boston, Massachusetts, is committed to wellness equity in all of the services she provides. The owner of Brenner Reiki Healing in Newton, Massachusetts, Elise provides comprehensive training in all levels of Reiki, having trained physicians, nurses, social workers, physical therapists, teachers, and people of all ages and backgrounds. Brenner has provided Reiki training for staff at Boston's Beth Israel Deaconess Medical Center staff, Edith Nourse Rogers Veterans Administration Hospital in Bedford, MA, and Tufts Medical Center in Boston. Brenner further provides Reiki and Mindfulness outreach workshops to organizations, for both staff and populations they serve, including the Livestrong Program at the YMCA; Harbor Health Elder Service Plan in Boston; support groups for survivors of domestic abuse; support groups for individuals struggling with Vestibular Disorders; psychosocial support groups for cancer patients; support groups for carers of those with chronic conditions.
Brenner is the co-author of the 2022 book, Reiki: A Self-Practice to Live in Peace with Self and Others, published by John Hunt Books. Elise is the co-creator of an 8-week Mindfulness and Compassion Program for people experiencing chronic pain.
Elise savors time in the woods and has begun trying her hand at composing eco-poetry.