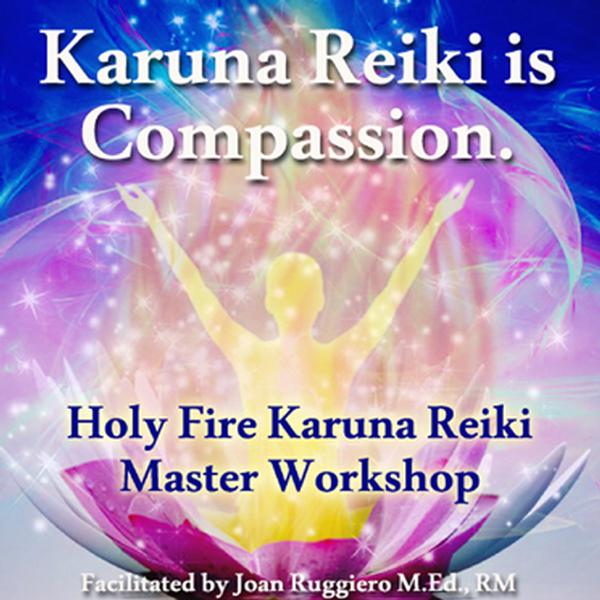 Holy Fire Karuna Reiki Master
Joan Ruggiero
Being Rescheduled
This event has already occurred.
Please be sure you are on our mailing list to be notified of more events like this!
---
This workshop has been postponed due to a family emergency. It will be rescheduled shortly.
Holy Fire Karuna Reiki Master 3 day training
This class will be offered online through a Zoom meeting. Please register at least an hour in advance. About an hour before class you will receive an emailed invitation with the login link and/or phone number. You do not need to have your own Zoom account.
This workshop runs 10:30 am to 6:00 pm each day (Saturday through Monday, 3/25 - 3/27)
Pre-requisite: Usui Reiki Master Certification, Holy Fire Master Certification or Karuna Reiki Master
William Rand recommends both Holy Fire ART/Reiki Master & Holy Fire Karuna Master for certified Usui ART/Reiki Masters. (If you are already a certified Usui ART/Reiki Master Teacher - this class (Holy Fire Karuna Master) can be your next step to receive all Holy Fire Energy to teach all Holy Fire Classes)
Holy Fire Reiki is a new powerful form of Reiki being introduced by the ICRT (International Center for Reiki Training). It is both powerful and gentle and provides purification, healing, empowerment and guidance. It is included as part of Usui Reiki I, II, ART/Reiki Master and Karuna Reiki Master Classes.
Holy Fire energy is noticeably more refined and comes from a higher level of consciousness. Holy Fire is a spiritual energy that creates wholeness through purification, healing, empowerment and guidance. With Holy Fire energy, we come to understand, we all have the ability to connect directly with Source energy and all Higher Beings of Cosmic Light.
Holy Fire has moved through 3 levels: Holy Fire, Holy Fire II and is now a Holy Fire III Workshop. Each level has brought through new information. In this Holy Fire III Workshop we are given information on the 12 Heavens. As the energy from each Heaven enters the physical body, the health and well being of the body increases solving issues as they arise.
Holy Fire training is done over a period of 3 days. This is a necessary period of time to allow for a significant shift in the student's energy.
Holy Fire Karuna Reiki is an advanced expression of the evolving nature of Reiki developed by William Rand (www.reiki.org). Karuna is a healing energy that awakens our hearts to a very deep level of compassion. You will be introduced to the eight Karuna Healing symbols. These symbols are Keys that activate the different frequencies of healing energy available in Holy Fire Karuna Reiki. Each symbol has a particular energetic purpose. The first 3 symbols direct the Reiki energy to heal traumatic issues imbedded in our cells. Our shadow self slowly reveals itself for healing. There is a symbol for grounding, one for manifestation, and one for Earth Healing and another for deep peace.
We will practice how to chant and/or tone these symbols as we give Karuna Reiki Treatments. You will also be shown the process of integrating Karuna and Usui Reiki in treatments.
A Manual is included with in depth descriptions of each symbol. As a Holy Fire Karuna Reiki Master, the depth of your healing treatments will increase dramatically.
You will receive certification as a Holy Fire III Karuna Reiki Master/Teacher.
This Certification certifies you to teach: Holy Fire III Karuna Reiki Master and Holy Fire III Reiki I, II & ART/Reiki Master Classes.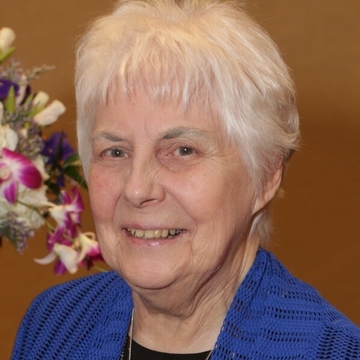 Joan Ruggiero
We are Now in a great Transformational Evolutionary Shift on Planet Earth. New Waves of High Vibrational Frequencies and Information are pouring in. As Lightworkers on the path of Ascension, we are entering into the era of 'Soul over Matter' after learning much from 'Mind over Matter'.
The Quantum Scientist is bringing us a profound understanding on how to enter the 'Oneness Field' which was first introduced to Joan through the Melchizedek Method in 2000. We are learning our Soul carries all the information within us to heal our Physical, Emotional, Mental and Spiritual bodies including our finances.
Since 1995, Joan has been teaching at Circles of Wisdom including many workshops in Usui Reiki, Holy Fire Reiki, Karuna Reiki, Lightarian Reiki, Magnified Healing, Chakra Balancing with the knowledge of the Chakra Archetypes, Healing with the Seven Sacred Rays of the Archangels, Ascended Masters and Elohim, Sacred Geometry, Healing with Crystals & Pendulums and The Melchizedek Method.
Her training began in the early 1970's, studying with the Masters from India, including Satchidananda, Baba Muktananda, and Ammachi, as well as studying the disciplines of Pranic Healing with Master Cho Kok Sui, Melchizedek Method with Alton Kamadon, Holy Fire Usui & Karuna Reiki with William Rand, Magnified Healing with Gisele King, and Akashic Record training with Linda Howe. Joan also received the transmissions as a healer of the Tibetan Healing System from His Holiness after 3 years of study with Rinpoche Chongtul. In addition, she is an Ordained Priest in the Melchizedek Order.
The Tao Healing Transmissions Joan has received to be a certified Tao Healer will become part of her energy field and will raise the vibrational energy in all Workshops she teaches from HF Reiki to the Melchizedek work.
In the last few years Joan's healing work has led her to the study of the profound work of Lao Tzu, called 'The Dao De Jing' often referred to as 'The Way of all life'. The Tao Healing energy is the most powerful Healing energy she has received in all her healing work. She is very grateful to be able to bring this healing energy to others.
Joan is now a certified 'Tao Hands Healer' and will be offering healings and teachings at Circles of Wisdom. She will also now offer classes in 'Unlocking your Quantum Powers' after having studied Quantum Healing and Tao Science with the work of Dr. Sue Morter, Dr. Jean Houston. Dr. Sha and the Quantum Physicist Dr. Rulin Xiu.