Manifest Your Best in the New Year: 2024 and Beyond!
Alisa Ozernoy
In-Person or Online
Saturday, January 6, 2024
Online
12:00 pm-2:00 pm EST
$35.00
Saturday, January 6, 2024
In-Person
12:00 pm-2:00 pm EST
$35.00
---
MANIFEST YOUR BEST 2024 AND BEYOND?
Attend in person, or online live. Or register in advance and receive a replay link after class that you can watch for up to 2 weeks.
You will also receive the online Manifestation manual, the meditations playlist, and book list after class. You may register even if you can't make it live and watch the class later.
For those of you who have come to this workshop before, there will be several new techniques to inspire you. For those of you who are new, you will learn several popular methods of how to manifest future possibilities. We will discuss the Law of Attraction, the Soul Dream Method, calling on Angels, Deities, positive affirmations, prayers, the 33x3 method, the focus wheel method, crystal grids, tarot and oracle cards, the intention box, and much more.
We will write out both short-term and long-term goals and create a specific manifestation plan for achieving them. An abundance ceremony will help you release what is holding you back and bring in fresh energy of abundance for 2024. During the group intention healing circle, we will discover the incredible rebound power of group intention to heal our own life and that of others. We will end our time together with a group intention for peace and healing to the world in 2024.
After the group, the instructor will email you group materials and meditation playlists, so that you can continue your own.
Bringing a Journal is recommended
Please bring crystals
Colored pencils or pens
Tarot or oracle cards
A small box, if you have one
See what past participants have said:
I really enjoyed your workshop last week. You did an amazing presentation that could reach each participant right where they were in their spiritual and emotional development. That's not an easy thing with a large group and not knowing many of the participants. Keep shining your light and I will shine mine a little more brightly after your workshop." DH

"Thank you for the wonderful gathering. I got a great deal out of it. I kept smiling because you use sources I know and trust. You reminded me of what I knew and drew my attention to material I need to learn. You did a wonderful service for all of us, and I will come back to see you again." SJ

"It was wonderful to meet you and your class was both very inspiring and empowering." DC
If you are coming in person you will be required to sign a
Liability Waiver Release Form
if we don't already have one on file from a previous event. Please note you DO NOT need to print this form as we will have a copy for you to sign when you arrive.
If you are attending via Zoom please register at least an hour in advance. About an hour before class, you will receive an emailed invitation with Zoom login information.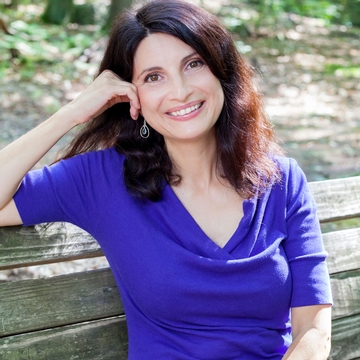 Alisa Ozernoy
As a teacher, Alisa is passionate about helping others, in creative and nurturing ways, to discover their own unique gifts and spiritual tools for healing, balance, and growth.
Alisa is very grateful and proud to work as a messenger for the Spirit world. As a Medium and Healer, she is committed to assisting people to heal, heart to heart, and spirit to spirit.

Having worked previously as a grief counselor and social worker her compassionate nature has led her towards a more spiritual approach. Alisa is certified as a Holy Fire Reiki Master and a Spiritualist Healer, and has a Master's Degree in Psychology. She has studied with national and international Mediums and Healers.

Alisa's desire to know God has led her to travel to spiritual sites all over the world. Her real journey from skeptic to believer began in 2008, as she was grieving the death of a close friend. Subsequently, as she was suffering through a chronic medical condition, she received a spiritual healing. This experience revealed that she would begin helping people both through her healing work and as a Medium. When these abilities rapidly accelerated, Alisa was fortunate enough to discover a supportive community through a variety of locations including Circles of Wisdom. She is incredibly grateful to have support and guidance, both from her peers and Spirit.

Alisa believes that we are here to lead lives full of love, joy, and balance, and that our spiritual practices can help us live more fulfilling lives in a higher vibration.