Holy Fire Reiki Level II
Joan Ruggiero
Online
AvailableSeats: 500
Sunday, January 29
10:30 am-5:00 pm EST
---
Save $25! Register for Holy Fire Reiki Level 1 & 2 for only $300! Click here to register.
This class will be offered online through a Zoom meeting. You do not need a Zoom Account. You will receive the Zoom link from Circles 1 hour before class.
There will be additional information sent to you by email with the Zoom link.
All participants will need to have access to video (computer IPad or phone) for this workshop.
You may want to purchase Reiki: The Healing Touch First and Second Degree Manual by William Rand to accompany the workshop. However, it is not required and the parts of the manual that are needed for the training will be shown on the Zoom screen during the course.
After registering, please email Circles of Wisdom with your name as you would like it to appear on your certificate.
Have a journal or notebook available for recording your Reiki Meditation experiences.
The Usui Holy Fire Reiki II Workshop has the same information as Traditional Usui Reiki with additional Holy Fire Meditations to bring in the Holy Fire Energy.
In the Usui Holy Fire Reiki I Workshop, you learned the history of Reiki, the original Reiki principles and techniques as taught by Usui Sensei, who brought forth Reiki. In Holy Fire Usui II Reiki you will continue with self-healing, scanning, stabilizing and grounding your energy.
Holy Fire Reiki II will continue with Holy Fire Meditations and Attunement to the Holy Fire Reiki II energy now called Placements. In addition, you will learn the 3 Reiki Symbols for empowerment and distant healing.
You will be introduced to the '3 Diamonds of Buddhism' and learn how they relate to the 3 symbols of Reiki.
You will practice distant healing, sending healing energy at a distance to someone whom you know.
In Reiki II you will be introduced to a unique method of healing in a virtual setting.
Zoom can divide us into groups of 2 or 3 called break-out rooms. In these rooms you will be able to do your healings together privately.
Students are always amazed at how powerful these virtual healings are.
Through this practice you will learn how to set up your own online healing practice.
There is a monthly online Wednesday class at Circles for you to continue this practice.
You will receive your Holy Fire Reiki Certificate by email after the Workshop.
This class will be offered online through a Zoom meeting. Please register at least an hour in advance. About an hour before class you will receive an emailed invitation with the login link and/or phone number.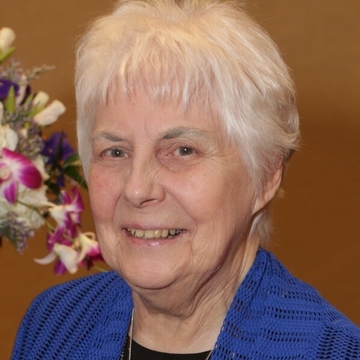 Joan Ruggiero
Joan Ruggiero M.Ed., Reiki Master has taught at Circles of Wisdom for 20 years. She teaches courses in Melchizedek Method (Levels I-V); Holy Fire Usui Reiki; Holy Fire Karuna Reiki; Lightarian Reiki (Levels I-VI); Magnified Healing (Levels I-III); 7 Sacred Rays Workshop with the Ascended Masters, Archangels and Elohim; Healing with Crystals and Pendulums; Chakra Balancing with the knowledge of the Chakra Archetypes.
Her training began in the early seventies, studying with the Masters from India, including Satchidananda, Baba Muktananda, and Ammachi, as well as studying the disciplines of Pranic Healing with Master Cho Kok Sui, Melchizedek Method with Alton Kamadon, Holy Fire Usui & Karuna Reiki with William Rand, Magnified Healing with Gisele King, and Akashic Record training with Linda Howe. She has also received the transmissions as a healer of the Tibetan Healing System from His Holiness after 3 years of study with Rinpoche Chongtul. Joan is also an ordained minister in the Melchizedek Order.
Workshops: In her Reiki Workshops, Joan shares her deep understanding of the Usui Method of Natural Healing in a supportive environment. She has also studied with Geshe Chongtul Rinpoche the ancient wisdom of Bon Tibetan Healing System. In her Magnified Healing workshops she brings forth the powerful energies of the ancient healer Kwan Yin. Joan has studied the courses of Pranic Healing with Master Cho Kok Sui and brings this knowledge to all classes that she teaches.
Joan has also studied the Melchizedek Method with Alton Kamadon and has taught all 5 levels to numerous students since 2010. She now certifies students who have studied all 5 levels to become Teachers of the Melchizedek Method in a 3-day Workshop Training. In her Melchizedek Workshops, Joan takes you through a journey of self-discovery and self-empowerment with the release of old belief systems and programs that limit you. Sacred Geometry, with the Hologram of Love in the pattern of the Flower of Life, is the basis for the Melchizedek teachings.
As a long time student of Eastern Philosophy and Meditation, with over 25 years of experience as a public school teacher, her unique ability to bridge East and West is reflected in her work, and inspired by the belief that we all have the ability to awaken to our own healing power.
Group presentations and workshops are available. For further information about using these beneficial healing disciplines for renewed energy, health, and stress reduction, contact Joan at jruggiero333@gmail.com or access her website for free talks and meditations she has offered in the past.