Shamanic Journeying Workshop
Wendy Carlson
In-Person or Online
---
In Person at Circles
Wednesday, June 14
6:30 pm-8:30 pm EST
$35.00
---
Online through Zoom
Wednesday, June 14
6:30 pm-8:30 pm EST
$35.00
---
This class will be offered both in person at Circles of Wisdom and virtually on Zoom
Be sure to have a pillow, yoga mat, blanket or whatever would make you comfortable during your journey
Shamanic journeying allows you to lift the veil between our 3D world and other dimensions. It is a wonderful way to get Divine guidance as well as healing from loving helpers who are waiting and eager to be of assistance.
This class is an opportunity to learn or continue your practice of shamanic journeying. You will "travel" to meet powers animals and other helpful teachers and guides through the practice of Shamanic Journeying.
We will briefly discuss the benefits and the journeying process, and then experience a journey to the middle world to create or enhance a relationship with a nature spirit (tree, body of water, a rock, a plant) and perform a ceremony to welcome in the Autumn harvest season. We will then journey to the lower world to meet a power animal or guardian spirit.
On a second journey we will travel to the upper world to meet a loved one, guide or a spiritual teacher to receive healing and wisdom to support us in our intentions of this season or time in our lives.
Those who are new to journeying, I encourage you to watch the orientation video below which goes into more detail about the benefits, preparation and what to expect from the shamanic journeying experience.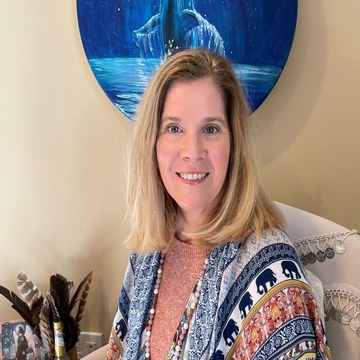 Wendy Carlson
Wendy Carlson is a Certified Yoga Teacher, Reiki Master, Shamanic Energy Healer and Spiritual Teacher. Her path to teaching and energy healing began, through the pain and frustration of an undiagnosable condition. She began seeing a Holistic Practitioner out of frustration, desperation and fear of potential side effects of the medications she was being prescribed. That decision did more than teach her how to listen to and heal her body. It sparked her soul and started Wendy down the path to becoming an energy healer and educator.
Wendy is committed to educating people about the benefits of a daily spiritual practice that includes yoga, mantra, meditation, and chakra balancing. She works with clients to release blocked energy and reap the benefits of mental clarity, emotional balance, and physical health. As a teacher, Wendy supports and encourages all students to consider a daily spiritual practice and include energy work as an integral part of their wellness plan. She enjoys sharing with people the multitude of simple ways they can balance their body, mind and spirit and manifest the life they truly desire.