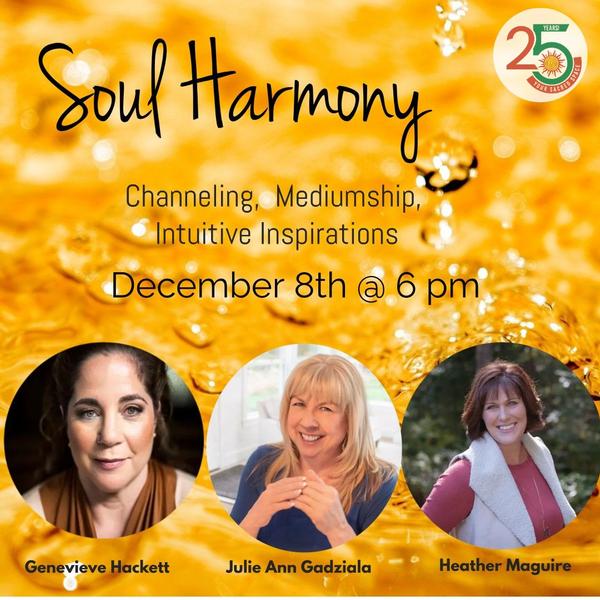 Soul Harmony
Julie Ann Gadziala, Genevieve Hackett, Heather Maguire
In-Person
This event has already occurred.
Please be sure you are on our mailing list to be notified of more events like this!
---
All proceeds will go directly to our Season of Giving campaign as we work with Debbie's Treasure Chest to provide gifts for families in need.
We thank Julie Ann, Genevieve and Heather for offering this special event as we celebrate Circles of Wisdom's 25 Year Anniversary!
All merchandise is 25% off December 8-10 as we celebrate 25 years in business!
Experience 60 minutes of pure soul harmony, where every moment is a tapestry of beauty and upliftment. Our session is a celebration of channeling, mediumship, and intuition, woven together with the threads of love, laughter, and radiant light. Allow us to guide you on a journey that touches the deepest chords of your being, leaving you with a heart full of peace and a spirit soaring with joy.
This event is being held IN PERSON at Circles of Wisdom, Methuen, MA.
All participants will be required to sign a
Liability Waiver Release Form
if we don't already have one on file from a previous event. Please note you DO NOT need to print this form as we will have a copy for you to sign when you arrive.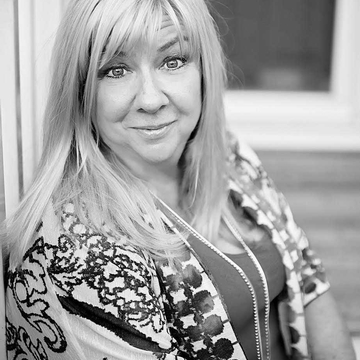 Julie Ann Gadziala
Julie Ann is a gifted and inspirational spiritual practitioner, teacher, mentor, and coach. Her unique blend of humor, comfort, and joy, along with her exceptional skills, have made her a beloved figure in the spiritual community, and an invaluable resource for anyone seeking to unlock their full potential and achieve their spiritual goals. As a Psychic, Medium, Channeler, Healer, and Business/Employment Intuitive, she brings a comprehensive approach in her private sessions. Her clients consistently report feeling a deep sense of transformation, growth and often healing after attending her private sessions.
Her classes, workshops and mentorship programs on Intuition, Psychic, Channeling, and Mediumship Development are highly sought after and attract individuals from around the world. Julie Ann is also a renowned Coach and Mentor for Spiritual Entrepreneurs. With a proven track record of launching and growing 5 successful businesses herself in both the traditional business world and the metaphysical world, she brings a wealth of knowledge and experience to share with others. Julie Ann has a natural talent for motivating and emboldening individuals to embark on their spiritual path. Julie Ann's ability to inspire and empower those she works with is a true gift, and her dedication to helping others embrace their spiritual journey is unwavering. To learn more about her visit JulieAnnGadziala.com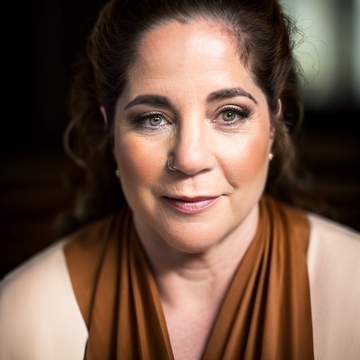 Genevieve Hackett
Genevieve is a lifelong psychic medium with over 30 years of experience using her extraordinary gifts to bring hope and peace to people's lives. As a Usui Shiki Ryoho, Holy Fire®, and Kundalini Reiki Master, as well as a practitioner in IET® and past life regression and life between lives specialist, Genevieve's range of expertise makes her a powerful force for positive change in the world.
As an alternative spiritual educator, Genevieve is passionate about helping others explore and deepen their spiritual connection. Whether through teaching classes, leading workshops, or offering one-on-one guidance, she has a gift for inspiring and empowering her students to embrace their own spiritual journey with compassion and authenticity. Genevieve is a successful business consultant and visionary leader. As the Director of Metaphysical Relations at Lions Gate Spiritual and Wellness Center, she spearheads marketing and advertising efforts with her boundless energy and creativity and is a master at identifying promising new practitioners and teachers to join the team.
In addition to traditional readings, Genevieve is dedicated to using her intuition and insight to help solve some of the world's most perplexing mysteries. With a fierce sense of compassion and unwavering commitment to justice, she has a remarkable track record in assisting with missing persons and cold cases. Genevieve's incredible gifts and passion for healing make her an inspiration to all who seek spiritual growth and positive change.
Heather Maguire
Having been intuitive her whole life, Heather has always been fascinated by the connections between people and the conversation beneath the conversation. She enjoys helping people uncover their own intuitive abilities and understand themselves at the soul level. "You're not broken. You're not an accident. Who you are is who you are meant to be. You have permission to love your whole self!"
Sitting in her very first development, Heather was amazed to discover that her body was able to bring forward thoughts, feelings and images that were actually highly accurate and insightful messages. Even more surprising was the discovery that when she shared these messages, people often experienced profound changes and healing.
Heather loves supporting people in the process of opening to their intuitive gifts. Her readings encourage you to believe in yourself and remind you of what you already know your meant to do.