Spiritual Intuitive Development Circle
Wendy Carlson
Online
Monday, April 3
7:00 pm-9:00 pm EST
$35.00
Monday, April 10
7:00 pm-9:00 pm EST
$35.00
Monday, April 17
7:00 pm-9:00 pm EST
$35.00
Monday, April 24
7:00 pm-9:00 pm EST
$35.00
---
Meeting every Monday night, this is a gentle and supportive group for people who are looking to begin, enhance and trust their ability to tap into their intuition and expand their intuitive and healing abilities.
Join us to explore and expand your innate gifts of receiving and giving intuitive information and of facilitating the energy exchange of Love and Light to each other. Learn how to experience and recognize the information channeled to you from your Higher Self, Guides, Helping Spirits and Loved Ones. You will have an opportunity to experience and practice scanning the energy field of another and being a conduit of love, light, and healing energy. We will also practice meditation, mantra, chakra clearing, journeying, mediumship, channeling, and more.
This class is offered every week online through Zoom. About an hour before class you will receive an emailed invitation with the login link and/or phone number. If you register close to class start we will email you the invitation as quickly as possible.
I have been a member of Wendy's Spiritual Intuitive Development class for almost two years. The moment I step into Wendy's class, I immediately feel love, kindness, compassion, and protection. When the class moved online, I was hesitant to join. The class was fantastic! I was completely amazed! Wendy was able to transfer the energy, love, and light through Zoom. She made it feel like we were all in the same room together! If you are thinking about taking a class with Wendy but are unsure about remote classes, do not hesitate to join! ~ Tanya
It was so nice to be part of the group last evening. It felt very safe and my breakout partners were so supportive. I was hesitant to attend and now I can't wait to go back! ~ Maura
This class will be offered online through a Zoom meeting. Please register at least an hour in advance. About an hour before class you will receive an emailed invitation with the login link and/or phone number.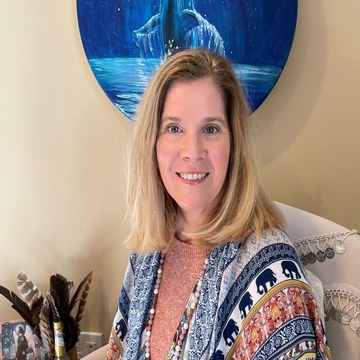 Wendy Carlson
Wendy Carlson is a Certified Yoga Teacher, Reiki Master, Shamanic Energy Healer and Spiritual Teacher. Her path to teaching and energy healing began, through the pain and frustration of an undiagnosable condition. She began seeing a Holistic Practitioner out of frustration, desperation and fear of potential side effects of the medications she was being prescribed. That decision did more than teach her how to listen to and heal her body. It sparked her soul and started Wendy down the path to becoming an energy healer and educator.
Wendy is committed to educating people about the benefits of a daily spiritual practice that includes yoga, mantra, meditation, and chakra balancing. She works with clients to release blocked energy and reap the benefits of mental clarity, emotional balance, and physical health. As a teacher, Wendy supports and encourages all students to consider a daily spiritual practice and include energy work as an integral part of their wellness plan. She enjoys sharing with people the multitude of simple ways they can balance their body, mind and spirit and manifest the life they truly desire.