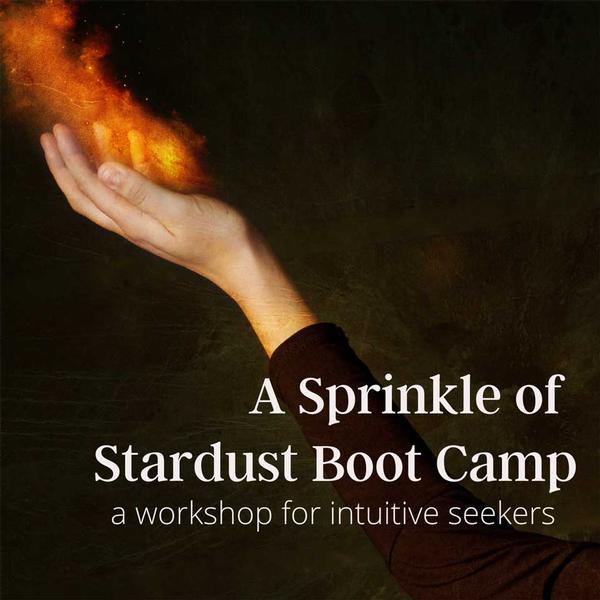 A Sprinkle of Stardust Boot Camp
Heather Maguire
In-Person
AvailableSeats: 60
Friday, December 2-Saturday, December 3
6:30 pm-3:00 pm EST
---
Workshop runs 6:30 to 9 pm Friday, 12/2 and 10 to 3 pm on Saturday, 12/3.
Sprinkle of Stardust Boot Camp teaches you how to develop a relationship with your intuition and to understand the energy of others in new ways. It's easier than you might think to access your higher knowing. Through practicing the building blocks of mediumship, energy healing, and intuitive energy reading you will naturally generate greater self-love and compassion. It's a fun workout for your intuitive muscles!
Signs you're ready for Stardust Boot Camp:
You believe in your intuition, but it's been a while since you two have talked.
You've experienced synchronicity, seen repeating numbers and other signs but don't know if you trust them.
You're tired of feeling lonely and your soul craves a community where you can truly be yourself.
You feel like you're not living in alignment with your purpose and you're exhausted.
_____________
This class is a safe and supportive place for people who are new to intuitive development and energy work. More experienced students often find a sense of freedom in my embodied approach.
You can expect meditation, education, partner practice, and a safe and sacred space to open more deeply.
Friday Night:
Introductions- Sharing the Spark of the Divine
The Clairs- Clearing Your Energy and Opening Your Awareness
Saturday:
Energetic Awareness: Sending & Receiving Energy
Divination: Understanding Your Body's Communication
Receiving Guidance: Meditation & Writing
Invest in your understanding of yourself. You are powerful and loved. You deserve to feel that. The practices that I will share with you helped me release a lifetime of loneliness, low self-esteem, and depression. And, they are fun!
______
BOOT CAMPER TESTIMONIALS
I highly recommend Heather's programs to anyone wanting to connect (or re-connect) with their authentic, intuitive self. Having the luxury of spending dedicated time and letting my own inner sparkly wisdom come to life has been a game changer for me! ~Victoria D
Heather is an amazing soul and always designs experiences that make me think and grow into a better person... I learned that we are all more powerful than we think and the universe is more reactive to our desires than we think. ~Jodi C
This event is being held IN PERSON at Circles of Wisdom, Methuen, MA.
All participants will be required to sign a
Liability Waiver Release Form
if we don't already have one on file from a previous event. Please note you DO NOT need to print this form as we will have a copy for you to sign when you arrive.
Heather Maguire
Having been intuitive her whole life, Heather has always been fascinated by the connections between people and the conversation beneath the conversation. She enjoys helping people uncover their own intuitive abilities and understand themselves at the soul level. "You're not broken. You're not an accident. Who you are is who you are meant to be. You have permission to love your whole self!"
Sitting in her very first development, Heather was amazed to discover that her body was able to bring forward thoughts, feelings and images that were actually highly accurate and insightful messages. Even more surprising was the discovery that when she shared these messages, people often experienced profound changes and healing.
Heather loves supporting people in the process of opening to their intuitive gifts. Her readings encourage you to believe in yourself and remind you of what you already know your meant to do.