Didgeridoo Journey Meditation with Joseph Carringer
Joseph Carringer
In-Person
AvailableSeats: 60
Thursday, April 13
7:00 pm-8:30 pm EST
---
Connect, breathe, and guide your space within. Bring peace and healing to your mind, body, and soul.
The didgeridoo mediation/journeying workshop is an unguided therapeutic sound-based meditation that can be used for various personal wellness and intention applications. This workshop offers an introductory overview of sound therapy and the didgeridoo as it relates to meditation and journeying.
The didgeridoo keys selected for this meditation are played for longer durations (50+ minutes) and chosen for their ability to support journeying, meditation, visioning, and intention manifestation. The didgeridoos are backed with complementary tones produced by seven metal contemporary Himalayan singing bowls.
What is Harmonic Therapy with the Didgeridoo?
The didgeridoo is an ancient, musical instrument and powerful tool that lifts an individual's vibration back to a less chaotic and natural rhythm. It produces a broad range of harmonics in a universal tone that positively affects the physical body, subtle energy system, and mind.
Harmonic therapy has been used to aid in meditation and relaxation, acting as a tuning fork for your body's natural resonant vibration on a cellular level. Reported effects range from relief of muscle pain and stress to greater clarity and heightened energy flow along reopened chakra points.
This event is being held IN PERSON at Circles of Wisdom, Methuen, MA.
All participants will be required to sign a
Liability Waiver Release Form
if we don't already have one on file from a previous event. Please note you DO NOT need to print this form as we will have a copy for you to sign when you arrive.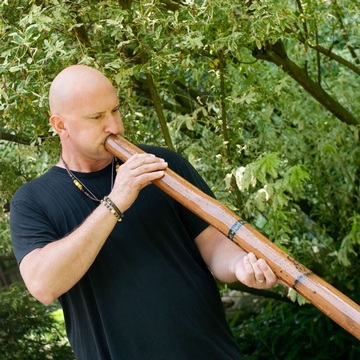 Joseph Carringer
Joseph Carringer is an internationally known didgeridoo musician and sound therapist. In his sound therapy practice he uses concert class didgeridoos, combining Traditional Chinese Medicine meridian and organ theory with Ayurvedic Chakra philosophies creating a unique and powerful therapeutic sound healing experience. For more information please go to: www.DidgeTherapy.com