Meditation Group
Lynne McDonald
In-Person
Thursday, April 6
6:30 pm-7:45 pm EST
$22.00
Thursday, May 4
6:30 pm-7:45 pm EST
$22.00
---
Are you looking for ways to reduce stress and anxiety in your life? Do you have limiting or negative thoughts about yourself or the world around you? Are you looking to bring more love and compassion to yourself or to your relationships? Are you wondering what is holding you back from living a more purpose driven life?
Join us for an evening where we will learn to quiet our busy minds, and to clear space for more peace, love, joy and abundance to come in. Whether you are new to meditation or have a regular practice, this group will help you gain a greater understanding and awareness of the life changing benefits of meditation and of living in the present moment.
If you haven't experienced meditation in a group setting, you are in for a treat. As we connect with one another, we raise each other's energy which only amplifies your own experience. This connection to higher vibrational energy opens the door to so much more! As you release and let go, you will discover a better connection with your soul and open yourself up to a world of opportunity and healing.
The benefits of meditation can happen immediately. Many find they are more focused and they have a clearer vision of both their inner and outer world. With a greater awareness, you start to respond less to the drama and hurdles in your life and more on the miracles happening around you. Ultimately, a regular meditation practice gives you the tools to start living your life in a state of gratitude and peace.
Come join us for uplifting experience where we practice together and explore the healing benefits of meditation. I am excited to create this space for you and to guide you on this journey.
This event is being held IN PERSON at Circles of Wisdom, Methuen, MA.
All participants will be required to sign a
Liability Waiver Release Form
if we don't already have one on file from a previous event. Please note you DO NOT need to print this form as we will have a copy for you to sign when you arrive.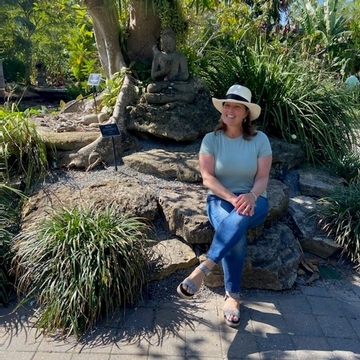 Lynne McDonald
Lynne spent many years in the corporate world and, like many people, was seeking more meaning and purpose in her life. Through a yoga class, she found clarity of mind and this new awareness led to diving deeper into meditation. In this quiet space, she discovered the many ways in which we can free ourselves of old patterns and limiting thoughts in order to live a fuller and more peaceful life.
Over the past 10 years, Lynne has been dedicated to sharing the benefits of yoga, meditation and mindfulness to others by leading community workshops and healing circles. In 2019, she started a corporate meditation group for the employees at Eastern Bank, which continues today. The feedback was astounding and she realized her soul life purpose was to help people find the quiet within themselves which leads to living a life with greater awareness of self and the world around us.
Lynne combines her vast professional experience along with her training as a Master Reiki teacher, Certified Yoga Instructor and Spiritual teacher into a wholistic method which she applies to her one on one and group sessions.
"I believe there are lots of people yearning for a sense of freedom and purpose in their lives. In a world that sometimes feels full of fear, anxiety and worry, I want to help people shift their perspective and trust that there is a way to live their lives aligned with love vs fear. I want to help them raise their own vibrational energy so they can make remarkable changes in their lives." - Lynne McDonald, Spiritual Teacher & Healer