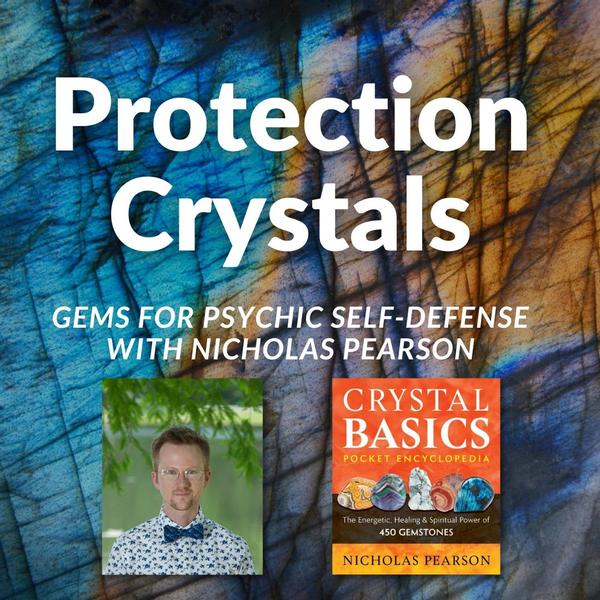 Protection Crystals: Gems for Psychic Self-Defense
Nicholas Pearson
In-Person
AvailableSeats: 40
Thursday, April 20
6:30 pm-8:30 pm EST
---
If you are travelling from out of town and would like a discounted rate at the nearby Hampton Inn, please email us and we will send you the code.
Do you find yourself easily drained by others? Are you sensitive to other people's emotions? Do you consider yourself empathic? In this workshop you'll learn simple, effective methods for coping with scenarios like these and many more.
This hands-on workshop features:
Dozens of the most powerful crystals and gems for protection
Easy methods to cleanse yourself and your environment of unwanted vibes
Simple meditations for creating psychic shields
Methods to neutralize psychic attack
Crystal grids to protect your home, office, and other sacred spaces
Join author and crystal expert Nicholas Pearson in this interactive workshop that will teach you how to boost your boundaries and shine brighter than ever.
This event is being held IN PERSON at Circles of Wisdom, Methuen, MA.
All participants will be required to sign a
Liability Waiver Release Form
if we don't already have one on file from a previous event. Please note you DO NOT need to print this form as we will have a copy for you to sign when you arrive.
Nicholas Pearson
Nicholas Pearson has been immersed in all aspects of the mineral kingdom for more than 20 years. He began teaching crystal workshops in high school, later studying mineral science at Stetson University while pursuing a degree in music. He worked for several years at the Gillespie Museum, home to the largest mineral collection in the southern United States.
A certified teacher and practitioner of Usui Reiki Ryoho, he teaches crystal and Reiki classes throughout the United States. Nicholas is the author of five books, including The Seven Archetypal Stones and Crystal Healing for the Heart. He lives in Orlando, Florida.