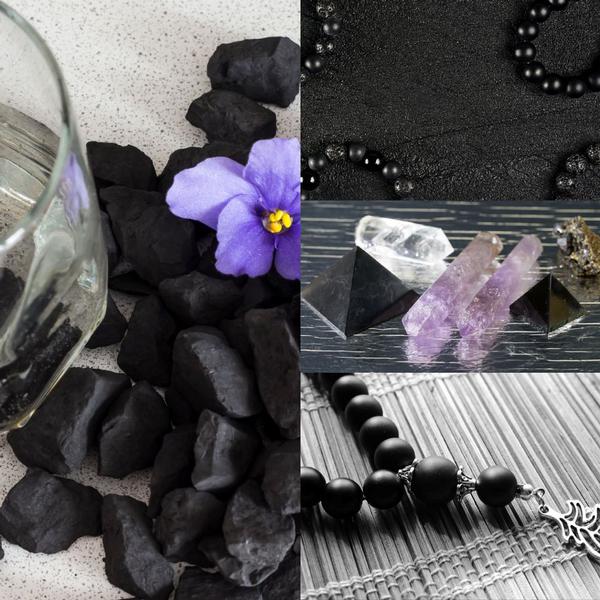 So What is Shungite & How Does it Benefit Me?
Diana Harris
In-Person or Online
Wednesday, October 25
Online
6:30 pm-8:30 pm EST
$45.00
Wednesday, October 25
In-Person
6:30 pm-8:30 pm EST
$45.00
---
In Person Both Classes
Wednesday, October 25 -Wednesday, November 1
6:30 pm-8:30 pm EST
---
Online Both Classses
Wednesday, October 25 -Wednesday, November 1
6:30 pm-8:30 pm EST
---
Please note this class has been rescheduled from Wednesday, 9/8 to Wednesday, 10/25.
Special, save $7 when you register for both this Shungite class and the Florida Water/Botanicals class running 11/1. They are both part of Diana's Medicine of Mother Earth Series.
Join us and learn how to work with Shungite for greater health and well-being. Shungite has been used for centuries. In Russian lore, legends of its curative and purification properties date back to before Peter the Great. Peter the Great had his soldiers carry the stone for water purification and to facilitate wound healing. In the West, we are just learning of the science and power of shungite - its spiritual properties, and its many applications for purification, healing, agricultural use, shielding EMF, and more.
This will be a thought-provoking and informative session. Diana will share how you too can experience the benefits of shungite on a physical, emotional, and spiritual level. It is our healing ally as we learn to remediate toxicity and restore health to ourselves and Mother Earth.
If you are coming in person you will be required to sign a
Liability Waiver Release Form
if we don't already have one on file from a previous event. Please note you DO NOT need to print this form as we will have a copy for you to sign when you arrive.
If you are attending via Zoom please register at least an hour in advance. About an hour before class, you will receive an emailed invitation with Zoom login information.
Diana Harris
Diana Harris is a nationally recognized intuitive counselor, holistic healer, medium, and educator. She has spent over 20 years honing her abilities. Diana is frequently sought after for the accuracy of her intuitive and mediumship services and dynamic workshops. Mixing compassion and humor with her abilities, Ms. Harris gently lifts the veil of fear and illusion so that her clients and students are empowered to honor their Highest Potential. Her style is evocative of the well-known aphorism: "Know thyself, and thou shalt know the world." Diana is trained in trauma and grief counseling and incorporates those skills into her practice where needed. She has a deep connection to Mother Earth and works with her Wisdom Keepers. Diana incorporates her knowledge of archetypes, vibrational medicine, angels, and shamanism into her practice. This ancient knowledge is a methodology for self-understanding, healing, and spiritual growth.
Ms. Harris has touched the hearts of thousands through her speaking engagements. Many have dubbed Diana the "Happy Medium" because she brings such Light and Joy to her work. She has been featured on DiggRadio Boston, WBZ, Explore Your Spirit, Hawaii's Inspiration Radio, etc. Her short stories were published in Love Like God, 2011. Ms. Harris has a growing list of national and international clients. She is currently working on a solo book project. Learn more about Diana at https://www.dianaharris.net