The Mind Labs
Ron Kolek,Steven Parsons
Off-Site
AvailableSeats: 500
Sunday, October 2
1:00 pm-4:00 pm EST
---
Please note that this event is being held off-site at Veasey Park, Groveland, MA
Join us for this special workshop with U.K. Parapsychologist Steven Parsons and Ron Kolek from New England Ghost Project as they share their insight and experiences.
We typically think that psychics have "special" abilities. However many believe all humans, including you, have the inborn capacity to do unusual "things", but like all skills, practice is the key. This workshop takes you a journey into the realm of the psychic viewer, the ability to see across space and time.
Through a series of simple exercises we will delve into various modalities such as ESP, remote viewing, psychometery and photo scrying. By focusing our minds, we will attempt to remotely connect to persons, places and things to gather information.
Leading this workshop will be paranormal researcher Ron Kolek who has been studying this type of phenomena for over twenty years.
Overseeing this workshop will be one of the U. K.'s most prestigious parapsychologist Steve Parsons. Steve is the founder of Para.Science and a committee member for the (SPR) Society for Psychophysiological Research the oldest and most prestigious paranormal organizations in the world. He has recently published the revised guidance notes for spontaneous cases files for the SPR. This is in addition to his own books Ghostology and Paracoustics
So if you are interested in exploring the power of your mind and want to have some fun at the same time join me in this special hands-on workshop.
Ron Kolek
Ron Kolek is the founder and lead investigator of The New England Ghost Project. With a degree in Environmental Science, he was the ultimate skeptic. However, a near death experience changed all that. No longer blinded by his skepticism, he now uses scientific background to seek the truth about the paranormal.
In addition to hosting Ghost Chronicles on Ghostvillage Radio, iTunes, and Podcast Alley, he also hosts Ghost Chronicles Live and Ghost Chronicles International on Toginet. He previously hosted a weekly radio show on 1490 AM WCCM in Lawrence, Massachusetts, and has contributed to several books including, Picture Yourself Ghost Hunting, The Encyclopedia of Haunted Places, Ghosts from Coast to Coast, and several others.
Ron, his co-host Maureen Wood, and his group have been featured on all of the major New England television channels including WBZ CBS 4, WHDH Channel 7, WCVB Channel 5, WMUR Channel 9, WNDS Channel 50, and others. His exploits have been documented in many newspaper and magazine articles including Woman's World. He has been a guest on several radio stations and is internationally known with features in the U.K., Germany, and China.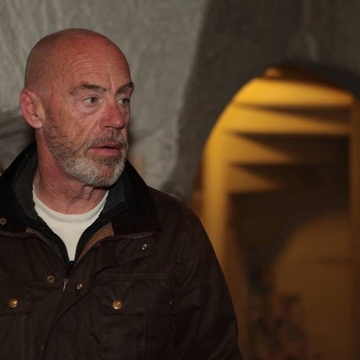 Steven Parsons
The Wall Street Journal called Steve Parsons "The Gold Standard in Ghost Hunting"
Steve began his search for answers as a child and subsequently has spent more than 30 years as a full-time investigator of Ghosts. Poltergeists, Haunted Houses and related phenomena. He is currently acknowledged by his peers and leading academic parapsychologists to be one the best investigators in the UK.
He is the author of two highly regarded books "Ghostology, The Art of the Ghost Hunter" & "Paracoustics, Sound and the Paranormal" In addition to his writing Steve has featured and contributed in many TV documentaries for broadcasters Worldwide, including The Discovery Channel, National Geographic, the BBC and Japanese TV. He has worked as an investigator and presenter on hit TV ghost hunting shows including Most Haunted & I'm Famous and Frightened.
Steve is a co-founder of Para.Science and a contributing member of the prestigious Society for Psychical Research (founded in 1882) and is an Advisor to the World's oldest ghost group The Ghost Club (founded in 1862).