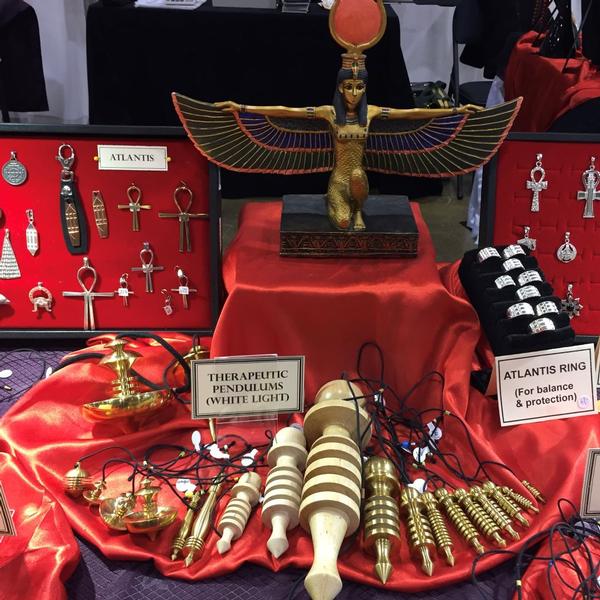 True Nature of Healing with Dowsing Instruments
Alicja Aratyn
Online
Saturday, October 14
9:30 am-1:00 pm EST
$50.00
Saturday, October 14 -Sunday, October 15
9:30 am-6:00 pm EST
---
Alicja has had a serious knee injury and won't be able to come in person in October. Her "visit" will now be offered through Zoom. We'll have some of her pendulums and other products available in store or online, and anything people want to order during her courses she will ship to Circles for us to distribute.
Everyone who registers will receive a video replay available for a two week period after the class. You may register even if you can't make it live and watch the class later.
Special Bundle Price - Only $200 for all 4 weekend classes. Save $20 if you register for the full weekend!
Successful healing requires a complex knowledge system, yet it seems simple to the untrained eye. In the case of dowsing - it is often mistakenly understood as simply "waving of a pendulum. Let's talk and practice how to do healing correctly to bring long-standing changes to the whole energetic system.
We can, of course, hold a therapeutic pendulum over a sick area or organ, which may temporarily correct the energy in that area. Is this, though, true healing? Alicja believes that to define oneself as a "therapist" or a "healer", you must continually be open to learning different healing methods and approaching each client with an open, curious mind as you ask "What can I do to improve his/her life?".
The healing process goes much smoother and is more effective when you can build a rapport with your client. In a sense you become business partners equally involved in the process and holding faith that health can be restored. You eliminate their fear by explaining why they are ill and what the healing approach will be the most successful.
We will work with Therapeutic Pendulums to bring in the White or Gold Light in the health restoration process.
Please have your therapeutic pendulum available, if you have one. Therapeutic pendulums will also be available for purchase (please see above).
This class will be offered online through a Zoom meeting. Please register at least an hour in advance. About an hour before class you will receive an emailed invitation with the login link and/or phone number.
Alicja Aratyn
Rev. Alicja Aratyn M. Eng. is the founder and owner of the Alicja Centre of Well-Being. She is a Past Vice President of the Canadian Society of Dowsers and has long been a member, lecturer, and teacher for the American Society of Dowsing as well as a member of Toronto Press Club. She is a life-long follower and enthusiast of the Esoteric and Metaphysical teachings of both Eastern and Western Philosophies.
In 1991 she moved to Canada with her son, Tom. Many personal challenges, as well as her son's illness, made Alicja put her theoretical knowledge into practice convincing her to stay with Alternative methods and Esotericism as a full-time business.
Since 1993, Alicja has dedicated her professional life to sharing her expertise and knowledge to improve the quality of life for many people. Over the past 20 years, she has traveled extensively throughout the world to teach, lead and inspire as well as to heal and consult with people to bring their lives to the next level of awareness. As a natural born healer, she shares her gift generously.
Like all great teachers, Alicja started with transforming her own life. She now bases her classes and one-on-one practice not only on the Ancient Egyptian School of Vibrations but also her first-hand experience with alternative modalities such as Medical Qigong, Dowsing, Reiki, EFT, as well as many European techniques (Transforming Family Patterns, Releasing Entities, Numerology, etc.).
Alicja has developed her own, unique system of teaching dowsing which is now known as the "Science of Dowsing". This system encompasses all levels and applications of Dowsing with an incredible amount of spiritual and scientific knowledge blended together to create a comprehensive and easy-to-follow course. In her seminars, Alicja uses the latest Accelerated Learning Technique which allows people to maximize comprehension. Her classes are always well attended due to her unique blend of knowledge, wisdom, and humor.
Alicja's mission is to empower and inspire people to reach their full potential by assisting in the manifestation of their dreams and life purpose.