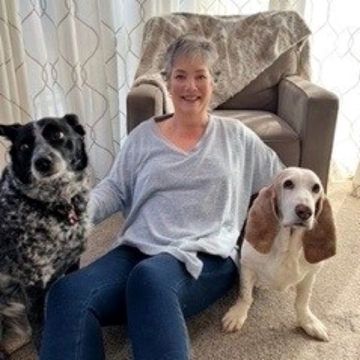 Animal Communication, Mediumship or Intuitive Coaching with Ginger Hendry
---
Ginger offers sessions both in-person and remotely.
In-person sessions are offered only on dates with the Person icon next to the date.
Remote sessions offered on any available dates, and you can choose phone, Zoom or Facetime. Ginger will contact you at your appointment time for remote sessions.
15 minutes for $40
30 minutes for $75
45 minutes for $100
60 minutes for $140
Animal Communication
People want to connect with their animals for many reasons. There may be a health concern, behavior issues or just wanting to know - what is my pet thinking? Some clients are making end of life decisions and others wish to hear from a loved one that has already passed. Our animals want to share their love, messages, and wisdom to help us to be the best "us" we can be. If you are ready to speak to your animal, I can help.
Mediumship
Connecting to a loved one in Spirit can often be a moving part of the grieving process. When we realize our loved ones continue to live on and are always connected to us, we can sometimes find some sense of peace that helps us move forward. In a Mediumship Reading, Ginger connects to your loved one and brings forward messages they want you to hear. Spirt wants to speak to us. It's up to us to listen.
Intuitive Coaching
Are you facing a difficult situation, struggling in a relationship, or generally feeling stuck in your life? These challenges can be hard. Oftentimes we just push them away or find a workaround to allow us to simply cope. Unfortunately, by doing that, we never uncover a real solution. In an Intuitive reading Ginger connects you with your Guides to help you gain insight and wisdom. She can also delve in to your Akashic Records, giving you the perspective needed to finally make the shift and move towards your best life.
---
Next Availability
Thursday, October 5
In-Person or Remote
5:00 pm-9:00 pm
---
Friday, October 27
In-Person or Remote
12:00 pm-5:00 pm
---
Saturday, November 4
In-Person or Remote
10:00 am-5:00 pm
---
Friday, November 17
In-Person or Remote
4:30 pm-9:00 pm
---
Friday, December 1
In-Person or Remote
4:30 pm-9:00 pm
---
Thursday, December 21
In-Person or Remote
4:30 pm-9:00 pm
---
Ginger Hendry
Ginger's gifts as an animal communicator and psychic medium offer unique insight into the soul of the animals and people that she works with. She is passionate about connecting to clients and providing clarity, guidance and healing through her readings.
Ginger has been doing this work professionally for many years and has had the privilege of making a difference in the lives of countless animals and their owners. Her intention is to help her clients to feel empowered to live their best lives.
If you are looking for someone to connect with your pet/s, a loved one in Spirit or to provide clarity and guidance for any life situation, she is honored to be of service.