Creating Change Sessions with Joy Costanza
---
Joy offers sessions remotely. You can choose phone or Zoom. Joy will contact you at your appointment time.
15 minutes for $40
30 minutes for $75
60 minutes for $150
90 minutes for $225
Creating Change Sessions
Joy is a Spiritual Healer/Teacher, Medical Intuitive, Shaman and Life Coach. Her work changes with every client as she simply follows the energy while making it as fun as possible. She is able to tune into your guides, angels, and teachers and look for what is not working in your life. Working together with her clients she is able to locate where patterns are held in the body, and what is needed to change it now. She is here to help make changes in you physically, mentally, emotionally and spiritually in your life today, and would prefer that then spending our time telling you what you already know (though we could do that as well). Many people opt to schedule time on a regular basis to work on cleaning up all of the relationships in their lives and also what is preventing them from setting/reaching their goals. If you are ready to start making some changes in your life, then Joy would love to team up with you and be your navigator. You will be amazed at what can happen in a single session, let alone on a regular basis.
House Clearings
Joy is also commonly asked to do house clearings. This is far more involved than simply clearing your home, business or land. Joy teaches her clients her methods for measuring energy. This typically involves first going through the house assessing how it feels and discussing what you may have experienced. Then we begin to clear with the objective of bringing balance back to the house, land, people, animals and any spirits in the house. You should be able to thrive in your home and together we program every room to support you, your family or co-workers, if we are working at a business location. Who needs a house clearing? Routine house clearings are a great idea and many people choose to do seasonal clearings. It is particularly helpful after an illness, death divorce, loss of a job, any abnormal activity, or if you find you prefer to go out rather than home. If you do not feel a sense of relief when you get home, it may be time for a clearing. Together we can make your home feel great!
My mission is to help people achieve their personal best. There are many things that keep us from reaching our goals; sometimes deciding on a goal can be just as hard. With some energetic support and removing some of the blocks of old emotions that scar us, we can actually start living and not just surviving. Each of us reaches a point in life when we realize we need to know who we are and why we are here. There isn't one standard answer to that, in fact, we each find our own. It is time that you learned new ways to let go of the past, learn to honor our bodies so self-healing is once again restored, and open up your awareness even more and experience life. Join me, from whatever point of your journey you are on, together we will soar!
-Joy
---
Next Availability
Sunday, December 24
Remote
12:00 pm-4:00 pm
---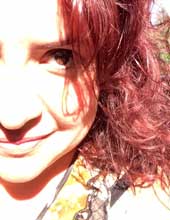 Joy Costanza
Joy is a celebrated Spiritual Teacher and the Founder and CEO of Design The Adventure INC. and THRIVE!
She is a Motivational Speaker, Certified Master Life Coach, Leading Energy Healing Practitioner, Medical Intuitive, Shaman, Reiki Master-Teacher, Shambhala Master-Teacher, Munay Ki Gifter, Vibro-Acoustic Healer, Intuitive and Author.
She has run a full time practice since 2004 and has helped and guided thousands of men and women to do the work that they came here to do and to create a life that is completely aligned to them.