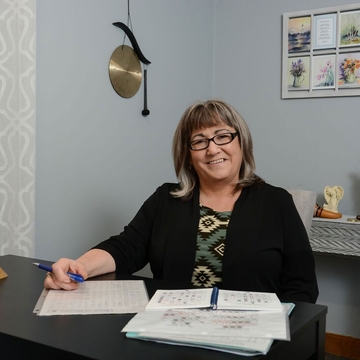 Destiny Divination or Healing Sessions with Renee Walsh
---
Renee offers sessions both in-person and remotely.
In-person sessions are offered only on dates with the Person icon next to the date.
Remote sessions offered on any available dates, and you can choose phone or Zoom. Renee will contact you at your appointment time for remote sessions.
15 minutes for $40
30 minutes for $70
45 minutes for $100
60 minutes for $130
A Destiny Reading is based on the belief is that we have all chosen our lives, chosen many of the people in our lives as well as many of the situations that come up throughout the course of our lives. We chose this because, at a soul level, we wanted to learn, to evolve, and to grow.
A Destiny Reading is your personal story, an opportunity to provide you with amazing insight and a greater understanding of your own spiritual growth and the choices and challenges you have set before you. A wonderful tool for self-development!
Using information from what most people consider a deck of playing cards, Renee views as a sacred book that contains a great deal of knowledge, knowledge that is meant to assist us in living up to our potential. These playing cards have been in existence for centuries, hidden in plain sight, waiting for a time when we were able to accept this knowledge and a willingness to work with the guidance it provides.
A Destiny Card reading can focus on a number of important aspects in your life offering several benefits:
An overall view of your life, your strengths and your weaknesses as well as your greatest challenges. It can assist you in understanding the true purpose of your life and what you chose to accomplish.
A view of the upcoming year where we can review new opportunities and new challenges. We can explore the choices you face, address these concerns to allow you more clarity and understanding thus enabling you to make better choices as you move through the year.
A relationship reading offers a great deal of insight into how you connect to others and how others relate to you. Using this system can greatly improve your understanding of your most challenging relationships and how to improve your communication skills. This is a wonderful tool for both personal and business relationships allowing you to achieve greater harmony and a more in-depth understanding of the many people in your life.
Schedule your reading with Renee today and Discover your Destiny.
Healing Sessions:
Renee has an extensive background in energy healing methods. She is a Holy Fire Reiki Master in both Karuna and Usui methods. She also has been trained in the Melchizedek Healing, Arcturian Healing methods, Akashic Records Healing, EFT & Crystal Therapy.
Renee utilizes her wide background in healing as well as support from her guides to personalize each session to fit her clients specific needs. She believes that caring for ourselves is our first priority so we may care for others! Schedule your session today.
---
Next Availability
Saturday, December 23
In-Person or Remote
10:00 am-5:00 pm
---
Friday, January 12
In-Person or Remote
12:00 pm-4:00 pm
---
Friday, January 26
In-Person or Remote
12:00 pm-4:00 pm
---
Saturday, February 3
In-Person or Remote
10:00 am-5:00 pm
---
Friday, February 9
In-Person or Remote
12:00 pm-4:00 pm
---
Friday, February 23
In-Person or Remote
12:00 pm-4:00 pm
---
Friday, March 8
In-Person or Remote
12:00 pm-4:00 pm
---
Friday, March 22
In-Person or Remote
12:00 pm-4:00 pm
---
Renee Walsh
Renee's journey of self-discovery began in the mid-1990s when she questioned her "place" in the corporate world. She delved into a variety of metaphysical modalities, including meditation techniques, crystal therapies, Angel cards, and psychic development techniques. Her quest ultimately led her to the Destiny Card system, which she found to be transformative.
In 2008, Renee fully committed herself to the Magi Fellowship, a group dedicated to the study of the Destiny Cards. Since then, she has gained extensive knowledge and expertise in various holistic practices and has earned certifications in Advanced Akashic Healing, Astrology, Holy Fire Usui & Karuna Reiki Master, and Melchizedek & Arcturian Healing methods.
Renee offers individualized personal consultations and relationship readings using her mastery of the Destiny Cards. She also teaches classes on the Science of the Cards, allowing others to benefit from her wisdom and insight. With her additional certifications in various holistic practices, Renee is well-equipped to provide transformative healing sessions to her clients.
Whether you are seeking clarity about your life path or looking to heal and grow spiritually, Renee's services can guide you towards your goals. She is committed to helping individuals find their true purpose and live their best lives.