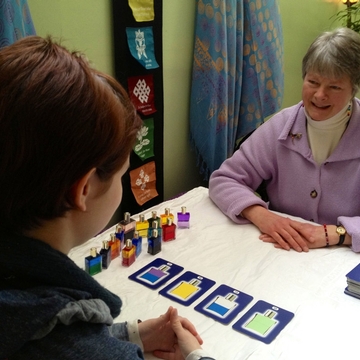 Soul Readings with Barb Ducharme
---
Barb offers sessions both in-person and remotely.
In-person sessions are offered only on dates with the Person icon next to the date.
Remote sessions offered on any available dates, and you can choose phone or Zoom. Barb will contact you at your appointment time for remote sessions.

15 minutes for $25
30 minutes for $50
45 minutes for $75
60 minutes for $100
Experience a reading from your Soul's perspective on your spiritual evolution as it is playing out in your life on Earth. Receive your Soul's guidance on your current situation, the challenges you face, the innate gifts and talents that are most important to your progress now, and the positive energies you are drawing into your life. Whether you come with specific questions or just to check-in, you will leave with positive, practical, empowering insight into who you really are, what's next, and how to create what's best for you.
In your Soul Reading, you will:
Receive your Soul's affirmation of the innermost qualities that make you who you really are and are most important to your ongoing evolution
Learn about your 'growing edge' – the gifts and talents to develop and express now to accelerate your progress and meet the challenges facing you now
Glimpse the 'evolved you' as represented by the energies you are drawing into your life now as you continue your Soul's journey on Earth.
Barb has been studying and practicing the Aura-Soma Colour system since 2003. Drawing on the wisdom of the colors, her own intuition, and 20+ years' as a life coach, Barb gets to the heart of the matter in a quick and gentle way that respects each client's experience and focuses on what's most important both in the moment and to the client's future. Most clients say that their Soul reading answered questions they didn't know they had, and many find the experience so helpful that the return time and again for follow-up consultations.
---
Next Availability
Wednesday, December 6
Remote
5:00 pm-9:00 pm
---
Barb Ducharme
Since 2004, Barb Ducharme has conducted hundreds of Aura Soma consultations for clients from around the world. Her knowledge of Aura Soma, combined with her decades as a life coach and educator, inform her consultations and teaching.
Barb is also trained in Polarity Therapy and Hidden Light Codes Activation, and holds degrees in Psychology, Management and Education.
Barb Ducharme has been exploring, walking, building, and hosting walks and workshops with labyrinths for 20+ years. A founder of the Labyrinth Guild of New England, she enjoys sharing the history and mystery of labyrinths with groups large and small. Her experience includes bringing the labyrinth to corporate settings for team-building, to faith communities to enhance communication and interfaith dialog, commemorating significant events among family, friends and community groups, and leading pilgrimages to ancient and contemporary labyrinths in the USA and Europe. Please direct any questions about the workshop to Barb directly at Barbara.Ducharme@gmail.com, or 781.254.2906 (voice/text ok).