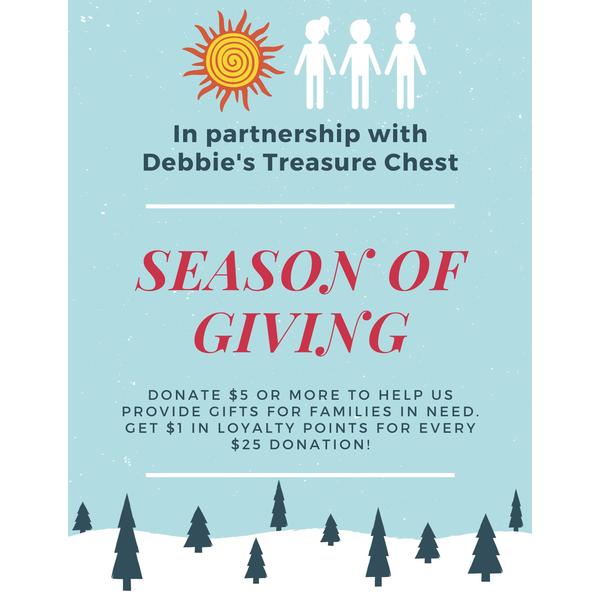 Season of Giving $5 Donation
$5.00
We currently have 1000 in stock.
---
For the 3rd year in a row, Circles of Wisdom will be working with Debbie's Treasure Chest and our friends from With Love and Gratitude to provide holiday gifts for families in need. We will soon have the ages and wishes for each family member. We're asking our Circles community to help with monetary donations in $5 increments. With the funds collected, our team will do the shopping and put the gifts together.
We're offering $1 in Circles loyalty points for future use with us for every $25 donated. All proceeds from the Friday and Sunday events of our 25 Year Anniversary Celebration Weekend December 8-10 will also be donated to helping the families. We'll also post some photos of the gift packages to share with you all and express our gratitude.
Thank you in advance for your love and support. Happy Holidays!
This year two of the families we are helping were referred to Debbie's Treasure Chest by schools that at least one of the children are attending. The teachers felt they are much deserving of some extra holiday cheer this season.
Family 1
In this family the Mom died suddenly and unexpectedly just weeks ago. The Dad is now on his own taking care of 4 daughters in grades 8 through high school. The Mom both worked and volunteered at the 8th grader's school and was known for her warm and caring nature. The family was very tight knit and had dinner together every night. Friends said that the Mom would always have an extra plate of food for any child even if they weren't expected to be there.
All of the girls value their education. The 8th grader who was referred to us is also the first to stick up for another classmate if she sees someone being treated unfairly or bullied. The family is lost right now with this sudden loss of their wonderful Mother. The Dad is now the only income earner for the family. Anything to help this wonderful family and lessen the burden for Dad while they all grieve this incredible loss would mean the world.
Family 2
This family was referred to us by a 4th grader's teacher. The girl's Mom is currently incarcerated and the girl doesn't see her Mom. She lives with her Aunt, Uncle and cousins ages 6, 7 and 12. Her Aunt is currently pregnant and due in December. They all live in a small rented home and treat the girl as one of their own, with the Aunt making sure that she gets to school on time every day. She's a great student who loves school and her friends.
The Uncle works but the Aunt does not. Their means are limited but they are a caring family. Any help for the children this time of year would be a blessing. This teacher who referred them knows the family well and feels they are very deserving of a little help.
Family 3
This is a family we provided gifts for last year and would like to help them once again. The Mom has endured domestic violence, being homeless, and being evicted as the Dad would not financially assist them after they separated. She is an immigrant who came to his country thinking her husband would be able to provide a better life for her daughter and herself. The couple's son was born once she was in the United States.
The son has had a liver transplant and is medically fragile and has spent much of his young life in the hospital. He was not able to attend kindergarten. The Mom has spent so much time at the hospital with him and has limited support to help her also take good care of her daughter who is a few years older. They are currently residing in a shelter and could use the help as Mom works tirelessly to do the best she can for both children.
---
Circles of Wisdom